Maitre'D simplifes your core business up front and in the back-office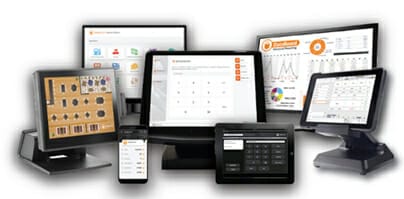 Table Service Solutions
Restaurant customers want a dining experience that complements the quality of their meal. Maitre'D Table Service Solutions help your staff meet your customers demands with a sophisticated POS system, from ordinary split-check requests to extraordinarily customized orders. Fast, flexible and packed with convenient features, Table Service Solutions increases floor efficiency while decreasing staff training costs.
Quick Service Solutions
It's all about speed – the rapid fulfillment of your customers' orders in a way that's fast and simple for your staff. Maitre'D Quick Service Solutions provide a robust POS system platform for day-in, day-out use. And a user-friendly system flexibility that lets you customize screens or add POS peripherals, such as bar code readers or customer displays, with ease.
Bar and Pub Solutions
Security and speed – these are the distinctive ingredients of any Bar/Pub POS & management solution. Through Maitre'D, customers get the rapid service they want, while you get the inventory and cash accountability your bar needs.
Other Industry Solutions
In addition to bar and restaurant POS systems, Maitre'D's open architecture allows you to integrate the powers of superior service and management efficiency into the systems you rely on for business operations in hotels, sports venues, arenas, golf course clubs and more.